By Dan Harrison Staff Writer | Posted: Monday, August 10, 2015 12:00 am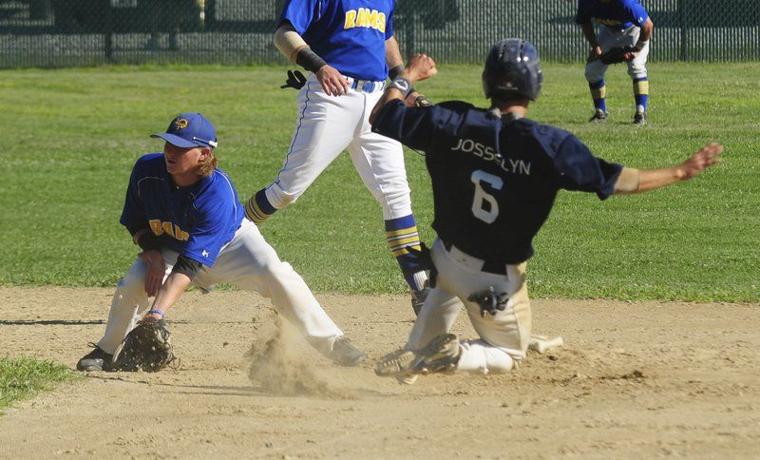 JIM VAIKNORAS/Staff photo Manchester's Cole Josselyn steals second beating the tag of Rowley's CJ Ingraham during their game at Eiras Field Sunday night.
ROWLEY—Rusty Tucker seems to have the Rowley Rams' number.
The consensus best pitcher in the Intertown Twilight League was on the bump in game two of the championship series against Rowley last night and the lefthanded power pitcher went the distance as Manchester Essex topped the Rams 4-3.
The Mariners now hold a 2-0 lead over Rowley and can clinch a fourth straight ITL title with one more win. The best-of-five series continues Wednesday at Memorial Field in Essex (5:45 p.m.). Manchester Essex picked up a 9-3 win over Rowley in Saturday's Game 1 in Essex.
"Rusty is the best in the league. It's really not that close. He got paid to pitch for a long time and he's down here now doing a great job," said Rowley manager Jeff Wood. "It seems like we always come up a run short against him. That's why he is who he is. He's the best in the league."
Tucker pitched in the Padres, White Sox, Red Sox and Brewers organizations picking up over 100 career saves as a pro. In 2011, he moved back to Gloucester and now he's the ace of the Mariners staff. The Rams put together some really good at-bats against Tucker last night but in the big spots late in the game Tucker came through for the visitors.
After Peter Clark's two-out single in the top of the seventh gave the Mariners a 4-3 lead, Rowley leadoff hitter Anthony Conte laid a perfect bunt down the third base line for a single. He then stole second and advanced to third on a errant throw giving the Rams a chance to tie with two outs but Tucker blew a fastball past Rams three-hitter Jordan Silva to end the game. Tucker had six strikeouts in the final three innings.
"Rusty dug down deep and came through in the end. It was a great game," said Mariners manager Ryan Marques. "He's a really good pitcher. He brings the heat and he really stepped up in the end. He made some really big pitches at the end of the game there."
Manchester opened the game by plating a pair of runs in the first inning as the Mariners were able to jump on a few of Rams starter Tim Moore's pitches for some extra base hits. Max Nesbit and Mike Cain belted back-to-back RBI doubles deep to left center and just like that the visitors led 2-0.
Moore settled in nicely from there and the Rams responded in the bottom half of the second inning when Justin Bolla led off with a line single and Colin Sitarz followed with a walk. Both guys advanced on a sacrifice grounder by Newburyport native Colton Fontaine and then catcher Mark Berkland ripped a two RBI single up the middle to tie the game.
"We went down two early and you never want to do that facing a guy like Rusty, but we came right back," said Wood. "I thought we played a good baseball game sometimes you can play well and lose."
Rowley actually took a lead in the bottomn of the third as Colby Ingraham belted a single and then advanced to third base on an errant pick-off attempt. Bolla came to the plate and launched a RBI double to put Rowley ahead 3-2.
But in the top of the fifth, Cole Josselyn hit a grounder to third that took a really tough hop for a Rowley error. Josselyn would score the game-tying run on a RBI single by Cain setting the stage for Clark's big, opposite field RBI single.
"It was a great game. It was a classic game with these guys where it's always down to the wire. It's always really high intensity," said Marques. "Peter Clark had a great hit with the bases loaded and two outs in a big situation. He waited for his pitch and he shot it to right field and got us the run we needed."
Moore, who doesn't have an overpowering fastball, really competed for the hosts using his off-speed stuff nicely. He has a slow, sweeping curve ball that he throws consistently and, with the execption of a few hits, the Mariners had trouble squaring it up.
"Timmy was fantastic. To be honest, it was a tough umpire for Timmy. The guy was not calling curve balls for strikes and Timmy throws a lot of curve balls," said Wood. "It seemed like he was working against the tide the whole way but Timmy has no quit in him. When he takes the ball I know he's going to go and go and go and give it everything he's got. Never at any point did I consider taking him out of that game and never at any point did he look over at me like he wanted out."
The Rams will look to right the ship on the road Wednesday as the team will need to win three straight if it's going to take the ITL title. Last year, Rowley was up 2-0 in the finals and couldn't close it out so Wood knows a comeback is definitely possible.
"We just have to play a game that's all. You can't play three games at once. You can only play one," said Wood. "We'll have to go Wednesday, play our game, try to scratch that one out and figure it out from there."
Conte had a very strong game at shortstop for the Rams highlighted by top of the second where he recorded all three outs on a line drive, a grounder and a pop up to shallow left.