Rockport blanks Mariners in decisive Game 5 for first ITL title since 07
By Nick Curcuru Sports Editor
The Intertown Twilight Baseball League championship is back in Rockport for the first time in a decade.
With a 3-0 win in an ultra tense, winner-take-all Game 5 of the ITL Championship Series on Sunday at Memorial Field, the Townies won a thrilling series 3-2 and clinched their first league championship since 2007, when the team completed a run of three straight titles.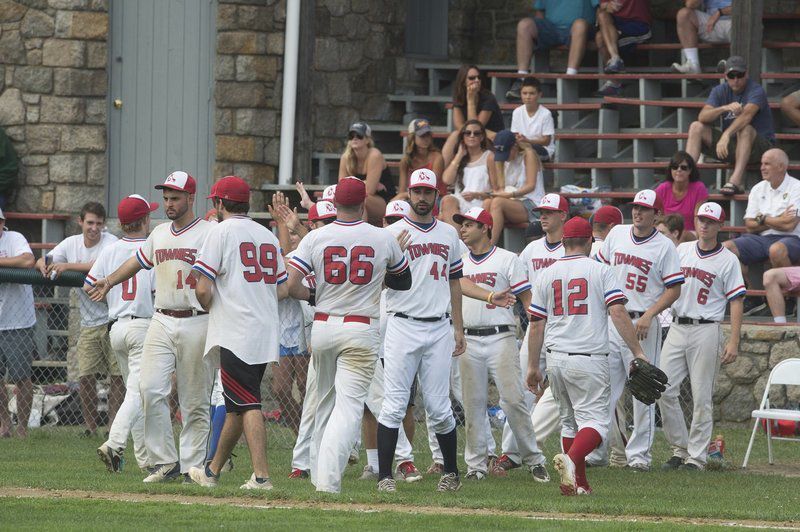 The Mariner's run of five straight ITL crowns came to an end on Sunday night as Rockport is the first team since Rowley in 2011 to beat the Mariners in a playoff series.
"What can I say about this team?" Rockport manager Jay Pallazola said. "We came back focused (after a loss on Saturday) like we have all season long. It was a great team win to cap off a great season. These guys deserve to win the championship."
The Townies entered the final weekend of the season with a 2-1 series lead needing one win in two potential games to clinch the championship.
The Mariners came back to tie the series at 2-2 on Saturday in Game 4 with a complete game performance from Rusty Tucker on the mound and a pair of home runs for Mike Cain.
That set the stage for Game 5 on Saturday, and it was Townies starter MacKenzie Quinn that stole the show.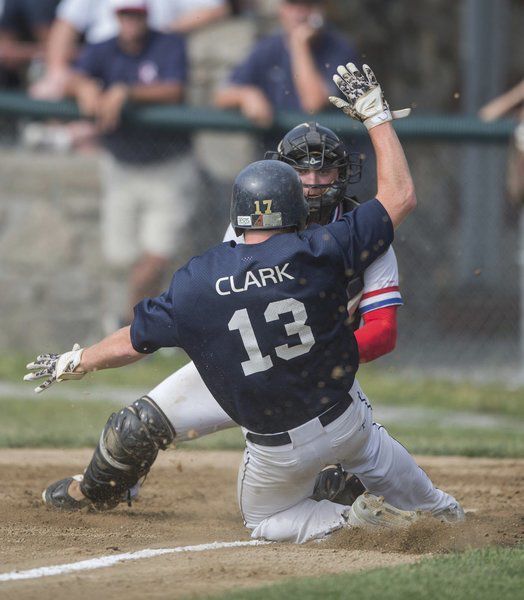 The crafty right hander kept a powerful Mariners lineup off balance from start to finish as he allowed just two hits in 5 2/3 innings of work. Through the first five innings, Quinn allowed just one Mariners base runner to move into scoring position, but Tucker was stranded at second after a one-out single and a fielder's choice.
"I had pretty good control with all my stuff until that sixth inning," Quinn said. "My change-up was probably my best pitch today. You definitely have to keep (the Mariners) off balance because if they know you're throwing a fastball, they'll jump all over it."
Quinn was Rockport's Game 1 starter and he suffered a tough luck loss as he was out dueled by Tucker, 3-0. He was on full rest for Game 4 on Saturday at Evans Field in Rockport, but Pallazola elected to hold him back a day because he has pitched very well at Memorial Field this season.
"He really wanted to pitch that Game 4 so bad, but in a Game 5 like this I don't want anybody else out there on the mound for us," Pallazola said. "We had Derek Osmond go on Saturday and he's a fly ball pitcher so I wanted him to pitch at Evans, which is a larger field. (Quinn) pitches so well to this ball park. He's a bull dog, he gives you everything he's got out there and he got it done today with everything on the line."
Quinn and Mariners starter Marc Phinney dueled throughout the day as both pitchers breezed through the first three innings without allowing a run.
The Townies got on the board in the top of the fourth with what turned out to be the game winning run. Jordan Pallazola drew a one-out walk and was moved over to third after Dylan Maki ripped a double to deep left. Keady Segel followed with an infield single in the hole between shortstop and third base to make it 1-0.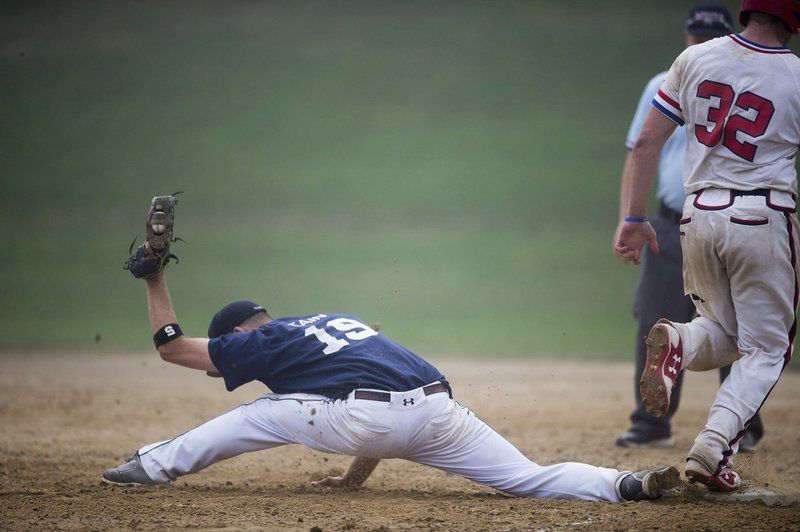 Phinney did a good job keeping more runs off the board as he got a big strikeout with one down m, and he got some help from his defense with two outs as Mike Cain picked a throw in the dirt with a full extension stretch on the first base bag to record the final out of the inning with a Townies runner on third base.
It was Rockport's turn to flash some leather in the fifth inning as Maki snared a hard hit liner off the bat of Peter Clark with a dive down the third base line for the first out of the inning. Quinn induced a pair of ground outs from there to get out of the frame unscathed.
"That was a huge play," Quinn said. "A leadoff double would have been a tough start to the inning."
The Townies ran into some trouble in the bottom of the sixth when the Mariners loaded the bases on two hit batsmen and a walk. But Nolan Webb came out of the bullpen and retired the only batter he faced with a ground out to second to keep it a 1-0 game.
Webb helped the Townies add a pair of big insurance runs in the top of the seventh. With Jason Vizena on third after reaching on a single and Mike Emerson on second after a double, Webb lined a single to right plating both runners to give Rockport a 3-0 edge heading into the bottom of the seventh inning.
"That was a huge hit and really lifted us up going into the last half inning," Pallazola said. "Nolan asked if we wanted to put on a squeeze play to get a second run in. I just told him 'hit it hard' and that's exactly what he did."
Shawn Hull came in to close the championship for the Townies with a perfect bottom of the seventh inning.
The Townies have now come full circle since their last championship in 2007.
After winning a third straight ITL crown that season, Rockport was still a respected contender, making it back to the finals in 2010 and 2011, falling to the Mariners and the Rowley Rams respectively.
From there the team went through a complete overhaul as the veteran players moved on and a new crop of youngsters joined the team. There were a couple of tough seasons followed by some playoff heart break in the form of two semifinal losses to Rowley.
In 2017, however, the Townies made it back to the top of the mountain.
"Jay did a great job getting a great group of guys together," Quinn said. "It's always great coming down to the field and getting a game in because we love playing together."